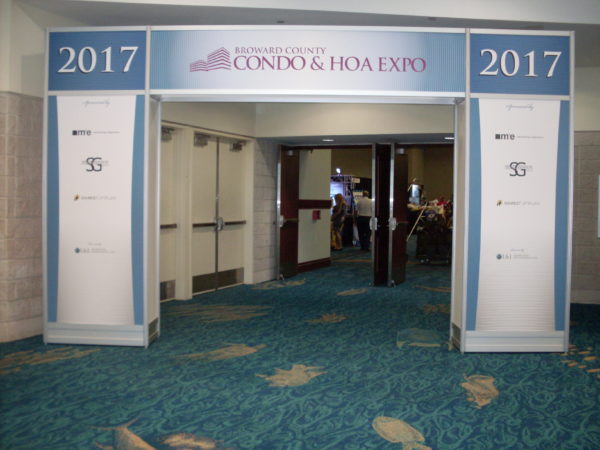 The Broward County Condo & HOA Expo
Special thanks goes out to L&L Exhibition Management, Nick Vetter and his Team for putting on this event.
I stopped in to meet with many of our SFPMA (South Florida Property Management Association) Members. Starting with Multi-Housing Team Bob and Sergio with Aaxon Laundry Systems, Rodger Kopp III of Commercial Laundries, Rudy Silva and James Friedman with Sherwin-Williams, Introducing myself to Buster Cash with Coast to Coast General Contractors, Proper Introductions to Steven J Weil Owner of RMS Accounting and Royal Management Services, Getting to meet more team members Ana Echeverri and Pedro Diez with The Falcon Group and SFPMA Legal Experts for Community Associations Kaye,Bender,Rembaum Attorneys At Law where Michael Bender Pompano Beach Office was giving a "Seminar on Legal and Legislative Changes and how it affects your Communities". Among other attorneys present was my pleasure to finally meet Lisa Magill Esq. who brings her Expertise in Community Association Laws to one of Florida's Leading Law Firm.
Hand Shakes and Business Cards I was able to introduce myself to some new Friends and Company Representatives, Gerardo Mondragon with A&A Elevator, Peter Rossi with Forge Engineering, Marketing and Business Development Team of Melissa DaSilva and Cristina Arias with Best Roofing, Jeffrey Weinstein with Advanced Fire Sprinklers, and the Entire Team of SprinklerMatic Chris Mcinerney, Tim Emerson, Jennifer Alvarez and Atlantic Broadband's Spencer Ohleyer, Mark Bluestein and Regan Anderson, Frank Delbrouck, Brent Cohen and James Keeney with PPG Paints,  Michael Sharf and Rob Wolk with Life Safety Management  all providing services to the Property Management Industry.
The Expo's Floor was easy to navigate the with plenty of room for all the Condo and HOA Board Members that arrived and could see walking the aisles and interacting with Management Companies, Community Association Law Firms, Banking, Restoration Companies, Accounting and Collections, Insurance, Cable, Telecommunications, Fire & Security, Engineering & Architecture Companies throughout the Broward Convention Center.
In my opinion the most important companies are the ones that keep our buildings running; The Service Vendors. It was a great mix including; Laundry Services, Paint Manufacturers, Concrete Restoration, Window & Door, Aquatic Management, Asphalt, Paving & Sealcoating, HVAC, Pool Equipment, LED &
Lighting, Marine Construction, Roofing, Landscaping and Pest Control Companies all under one roof.
View some of pictures of the day's events: A preview of some of the many companies in attendance.
This slideshow requires JavaScript.
** Mark your Calendars: Read the FLORIDA RISING MAGAZINE – MAY 2017
Like us on Facebook:
https://www.facebook.com/SouthFloridaPropertyManagementAss…/
https://www.facebook.com/FloridaRisingMagazine
Twitter: @sfpma
Follow us on LinkedIn:
https://www.linkedin.com/…/south-florida-property-managemen…
#sfpmamembers  #FloridaRisingMagazine  #AaxonLaundrySystems  #KBRLegal  #Bestroofing  #AAElevator  #TheFalconGroup  #RMSAccounting #RoyalManagement  #SherwinWilliams #ForgeEngineering  #CommercialLaundries  #PPG  #AtlanticBroadband  #SprinklerMatic  #AdvancedFireSprinkler #LEDareUS
Tags:
Association Members News
,
Florida Rising Magazine
,
Management News