South Florida Property Management Association      
SFPMA a Property Management Organization in the State of Florida. Our industry clients include: Property Managers (CAM & LCAM), Property Management Companies, Building Owners, HOA Communities, Condo Associations & Board Members, Multi-Family and Single Family Management Companies, Landlords, Investors and Vacation Rental Managers throughout Florida. We work together for the proper management and maintenance of real property. It is our intention to inform, educate and promote members and industry professionals to achieve success in the property management industry.
"Through your membership and our marketing, we drive traffic to industry professionals that lead to increased business for your company and lasting relationships for you."
 Our members help by saving you time and money with the properties you own and manage.
 Remember not every company works well with board members and the property management industry, SFPMA looks for these companies that work well with our industry professionals.
When you are looking for the highly trained companies who are licensed, bonded and insured that is what you get! We did the background work for you, if a company wishes to join we first need to see that they meet our strict requirements. So when your using our members as your outside services database combined with your in-house maintenance, you can relax knowing we only offer memberships to the companies that passed the industry and our strict standards. Using the right company the first time solves your're problem, before it turn's into a major problem. Many in the property management industry use our members for faster quality repairs in the buildings and communities they manage, this equates to happier residents, fewer high-priced emergency repair bills and cost savings overall.
 You must be licensed in Florida and hold proper liability and workers compensation insurance for your company and employees.
 Your company aids in cost savings to the Property Management Industry and can give a discount to members.
 Your company has a proven track record working in the property management industry, we will check references for past work in our industry.
 Members are asked to place our logo on your website showing your affiliation with SFPMA and Find-A-Service the associations directory, please link it back to our website.  (approved logos) 
As a member all of your company's information is listed on our directory in the categories your company does work in. If you do work in more than one trade let us know we can allow your listing to include this on the directory.
Read more about types of memberships
Keeping owners, members, and industry professionals informed with what you do. We do this by using many media avenues, direct emails, social media marketing, Ads in our industry magazine, and speaking directly with our members. Through this exchange of information we have become a valuable resource in our industry.
It takes both strategy and imagination to generate big ideas with big outcomes. The Marketing Division at SFPMA combines creativity and strategic thinking with our branding solutions to assure you apply your brand consistently to our audience of decision makers.
Start with a listing on our Find-A-Service Directory
On our directory platform Find-A-Service.com you can find our members each listed member is mapped and categorized making your choice easy.  Find top management professionals for your properties, businesses and service companies with all of their contact information. Leave a Rating, Find Sales & Products these companies may be running saving you money on the services they provide.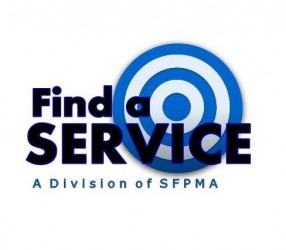 We pre-screen every company making sure that these companies meet State, Local and our requirements so you can trust that you are finding only the best companies for the work you need. Having these members mapped on FIND-A-SERVICE DIRECTORY allows you to find members located close to you this save's you time when you have a job that needs to get done.
Find-A-Service.com is the Industries Management, Business and Service Directory where all members of SFPMA are listed according to what you do. You can be seen and used by Industry Professionals. 
Become a Member
Property Managers, Businesses and Service providers learn more about memberships and adding your company w/ contact information, pictures, email, website, location, social media links, and sales, to our members directory called FIND-A-SERVICE